Our Summer Sangria Recipe
Summer?
What Summer?
We have decided that even though we can't enjoy the sunshine today that we should all at least be able to have some summer fun in the kitchen.
That's why we wanted to kick off with some delicious Sangria and share the recipe with you!
Very simple, very tasty.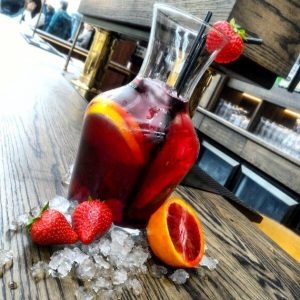 You will need:
Oranges
Lemon
Lime
Strawberries
Raspberries
3 glasses of red wine
25 ml brandy
50 ml sugar syrup
(to make your own the mix is 2 parts sugar and 1 part hot water)
ice
Jug
Steps:
Slice your fruit and muddle with a spoon in the bottom of your jug.
Add wine, brandy and sugar.
Make sure to taste and add extra brandy/sugar as per your preference!
Add some ice to bring down the temperature.
Use some of you left over fruit to garnish.
Enjoy!
On the off chance you don't manage to finish this tonight, once stored in the fridge it will be just as tasty if not more so tomorrow!